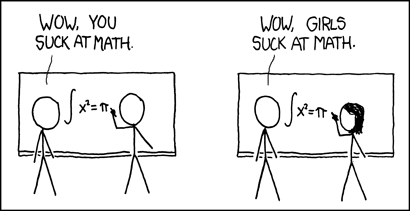 Oh, how I hate being the bearer of bad news. Yet I feel I have to tell you something about the frustration I'm hearing, in whispers and on the backchannel, from early-career women involved in digital humanities.
Here, there, and everywhere, we're being told: A DHer should code! Don't know how? Learn! The work that's getting noticed, one can't help but see, is code. As digital humanities winds its way into academic departments, it seems reasonable to predict that the work that will get people jobs — the work that marks a real digital humanist — will be work that shows that you can code.
And that work is overwhelmingly by men. There are some important exceptions, but the pattern is pretty clear.
In principle, I have no particular problem with getting everyone to code. I'm learning to do it myself. (And a million thank yous to those of you who are helping me.) But I wanted to talk here about why men are the ones who code, so that we can speak openly about the fact that programming knowledge is not a neutral thing, but something men will tend to have more often than women.
This matter is of no small concern to me. It is breaking my damn heart to see how many women I know have earnestly committed themselves to codeacademy because they want to be good citizens, to prove they have what it takes. These are my friends, and this is their livelihood, and this is the career we've chosen.
First, men — middle-class white men, to be specific — are far more likely to have been given access to a computer and encouraged to use it at a young age. I love that you learned BASIC at age ten. But please realize that this has not been the case for all of us.
Second, the "culture of code," the inside jokes and joshing that you enjoy, may not be equally appealing to everyone who encounters it. This should be, but apparently isn't, obvious.
But Miriam, you're thinking, there are lots of examples of DH coders who started late and are now well-respected and proficient! This is true! And they inspire me all the time. But this is also why I wanted to talk a little bit about what it's like for a woman to learn to program.
Should you choose to learn in a group setting, you will immediately be conspicuous. It might be hard to see why this is a problem; after all, everyone wants more women in programming. Surely people are glad you're there. Well, that's true, as far as it goes. But it also makes you extremely conscious of your mistakes, confusion, and skill level. You are there as a representative of every woman. If you mess up or need extra clarification, it's because you really shouldn't — you suspected this anyway — you shouldn't be there in the first place. I have sat through entire workshops that were clearly pitched beyond my skill level because I just didn't want to make us look bad. It's more awkward when you break for lunch, because where are you supposed to sit? It's uncomfortable. I am not known for being shy, and let me tell you: It is awkward.
But there are all these online communities where you can learn to code. There are! But if you are under the impression that online communities are any friendlier to women's participation, then you, my friend, have not looked lately at Wikipedia.
Well, just practice! I did the work — so should you! Here is the real point I'm trying to make here: It is not about "should." What women should do has nothing to do with it. The point is, women aren't. And neither, for that matter, are people of color. And unless you believe (and you don't, do you?) that some biological explanation prevents us from excelling at programming, then you must see that there is a structural problem.
So I am saying to you: If you want women and people of color in your community, if it is important to you to have a diverse discipline, you need to do something besides exhort us to code.